Meet the press ratings 2014
NBC Wanted to Hire Jon Stewart to Host Meet the Press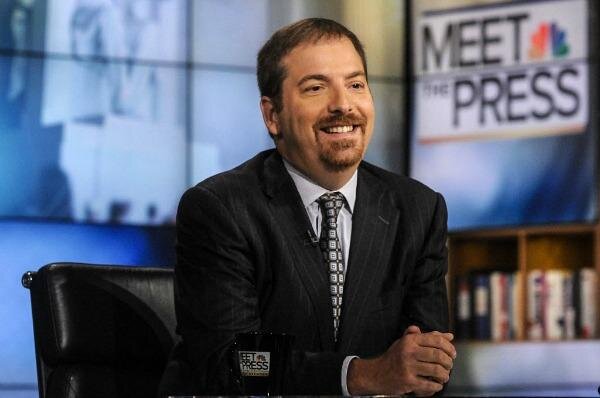 It's the highest-rating for Todd's "Meet the Press" tenure, which started in NBC executives definitely had a rough as rumors of David. Climbing 36 percent from a year ago, the Republican candidate's appearance marks the show's biggest audience since MEET THE PRESS -- SUNDAY, SEPTEMBER 7, CHUCK At home, the president's approval ratings have hit all-time lows. And many.
But you can comfortably disabuse yourself of the notion that simply replacing David Gregory will somehow fix the problem. This part of Playbook's reporting says it all: The move is an effort by NBC News President Deborah Turness to restore passion and insider cred to a network treasure that has been adrift since the death in of the irreplaceable Tim Russert.
'Meet the Press' tops Sunday ratings - POLITICO
Although Todd is not a classic television performer guaranteed to wow focus groups, his NBC bosses have been impressed by his love of the game, which brings with it authenticity, sources, and a loyal following among newsmakers and political junkies. Chuck Todd is an intelligent, reasonably informed journalist who seems to be a genuinely decent person.
That's an improvement over Gregory. He loves politics and process. Beyond that, his sense of passion seems to have limits. Passionate people, for instance, can't wait to explain stuff to ordinary human Americans. That's not a job Todd wants. Todd is the guy who once lamented that a poll indicated that a majority of Americans didn't understand what the debt ceiling was, and then shrugged and said that " the president has to use political capital and time to flip these numbers ," as if there wasn't a teevee camera pointed at him at that moment with the ability to broadcast information to people.
'Meet the Press:' Gregory out, Todd in
Chuck Todd exists somewhere on the spectrum between "disinterested" and "uninterested. If there's one thing that "Meet The Press" does not need right now, it's a greater emphasis on the following: What the people behind "Meet The Press" don't seem to understand is that they are currently maxed out on these things.
They have gone just as far as they possibly can with those ingredients.
NEWSLETTERS
Posts navigation
BREITBART CONNECT
There needs to be some tough coming-to-grips. The big problem is that "Meet The Press" isn't participating in the modern, 21st-century news environment.
If the show was participating in the same world as the rest of us, they'd recognize that the audience they want is well-versed in the stories of the week, and that they've already absorbed the talking points of the major players, availed themselves of a wealth of insight and expertise, and have even participated in their own discussions on current events.
So when Sunday rolls around and "Meet The Press" indulges itself in its childlike devotion to starting over at the beginning, people think, "Really, what's the use?
That's basically how most normal human Americans view "Meet The Press. Instead, they are operating at the lowest level of news-gathering -- the perfect level for their guests to dispense the talking points they've been whittling into a fine point over the course of the week.
The host's only purpose, it seems, is to move the guests off their talking points. It's a hollow enterprise with rare impact in the real world. Rather than enjoin a high-level dissection, the Sunday shows present a remedial form of news that simply cannot appeal to any significant section of the population. So, how to solve a problem like this?
Previously, Jonathan Bernstein and Paul Waldman have made a lot of great suggestions. Waldman's First Rule should be gospel: I also tend to think that shows like "Meet The Press" suffer from an access problem -- that is to say, they are so concerned with maintaining their access to political elites that the shows are now effectively a no-accountability salon.
Somehow, somewhere a wire has gotten crossed and "Meet The Press" has become party to a set of perverse incentives.
I've previously highlighted how Las Vegas-based political reporter Jon Ralston has managed to keep his journalistic enterprise running according to the correct polarity. Gregory took over the show in after Russert's sudden death. This change may seem like an esoteric matter, but Meet the Press is a broadcast institution. It is the longest continuously running TV series in American broadcast history, debuting injust two years after the end of World War II.
Chuck Todd to replace David Gregory on 'Meet the Press'
And it's a demanding gig. I found out late last year how difficult such hosting jobs are, when I stepped in to guest-host CNN's Sunday morning media analysis show Reliable Sources on three occasions in the fall.
I also learned a little bit about how these shows are put together, and the incredible impact even a guest host can have on what you see. On Meet the Press, Gregory has taken criticism for everything from displaying a high-capacity ammunition magazine during a discussion on gun control to questioning that seemed to accuse journalist Glenn Greenwald of breaking the law in his reporting on revelations by Edward Snowden.
But my experience tells me replacing Gregory won't solve Meet the Press's problems alone. The show needs more change to stay relevant in today's news mix. Stop with the old boys and girls network.
The same people keep appearing on Sunday talk shows offering the same opinions serving the same political agendas. Todd's first day on "Meet the Press" will be September 7.
In other words, last week was Gregory's last edition of "Meet the Press" -- though the viewers didn't know that at the time. Gregory confirmed his departure in a series of Twitter messages on Thursday afternoon, hours after CNNMoney reported that the "Meet the Press" moderator change was imminent.
To the viewers, I say thank you. Born on radio in and reborn for television in"Meet the Press" is the longest-running show on TV. Within NBC, it is a cherished brand, but it's also one that has fallen on hard times. With Todd in the anchor chair, NBC hopes to reinvigorate the program and its weekly ratings.